An evening of hope, inspiration and tolerance
The Honey Girl of Auschwitz - An hostoric event with Holocaust Survivor Esther Basch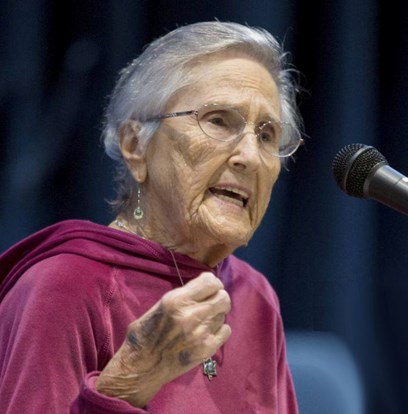 95-year-old Esther Basch was sent in a cattle car to the Auschwitz Death Camp on her 16th birthday. In April 1945 she was led on a Death March to the Salzwedel Concentration Camp where she was liberated by American Soldiers only three days later.
Many years later, after meeting one of the US soldiers who liberated her camp, Esther was motivated to begin to tell her unique story of hope and inspiration, a journey of horrific atrocities and unshakeable faith.
Esther has given captivating talks nationwide, which led to the production of The Honey Girl documentary enabling her to tell her story globally. Her universal love of humankind not only helped her survive but also enables her to share her story in a poignant way that moves and motivates others.
Tickets:
Advance: $20
At the Door: $30
Event Sponsor: $180
[includes 6pm Meet and Greet with refreshment buffet]
Corporate Sponsorship Available