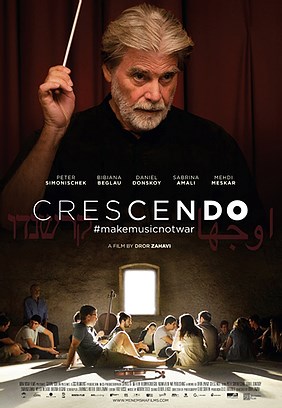 The Alaska Jewish Museum has once again sponsored an amazing film at the Anchorage International Film Festival: Crescendo, a German drama directed by Dror Zahavi. It premiered at the Munich International Film Festival on July 3, 2019 where it received a 10-minute standing ovation. 
When world-famous conductor Eduard Sporck (Peter Simonischek) accepts the job to create an Israeli-Palestinian youth orchestra, he is quickly drawn into a tempest of sheer unsolvable problems. Having grown up in a state of war, suppression or the constant risk of terrorist attacks, the young musicians from both sides are far from able to form a team. Lined up behind the two best violinists – the emancipated 
Palestinian Layla and the handsome Israeli Ron – they form two parties who deeply mistrust each other, on and off-stage alike. Will Sporck succeed and make the young people forget their hatred, at least for the three weeks until the concert? With the first glimmer of hope, however, the political opponents of the orchestra show them how strong they are.
Loosely inspired by Daniel Barenboim's West-Eastern Divan Orchestra, Academy-Award nominated director Dror Zahavi ("Alexander Penn", "Everything for my Father") directs this gripping drama as a constantly growing 'crescendo', raising the tension and conflicts until the last frame. Lead actor Peter Simonischek ("Toni Erdmann") stars next to a highly convincing selection of up-and-coming actors like Daniel Donskoy ("Victoria") and Sabrina Amali ("4 Blocks"). A remarkable theatrical movie and contribution to the worldwide efforts towards understanding, humanity and peace.