Shanghai Jewish Refugees Museum Exhibit: "The Past Is in The Present: The Future Is Still in Our Hands."
The Alaska Jewish Museum is excited to have been included in a new exhibit at the Shanghai Jewish Refugees Museum, The Past Is in The Present: The Future Is Still in Our Hands.
The exhibition's aim is "to present some of the most prestigious and original museums around the world dedicated to Jewish culture, history (especially the Holocaust), and art, to the Chinese audience."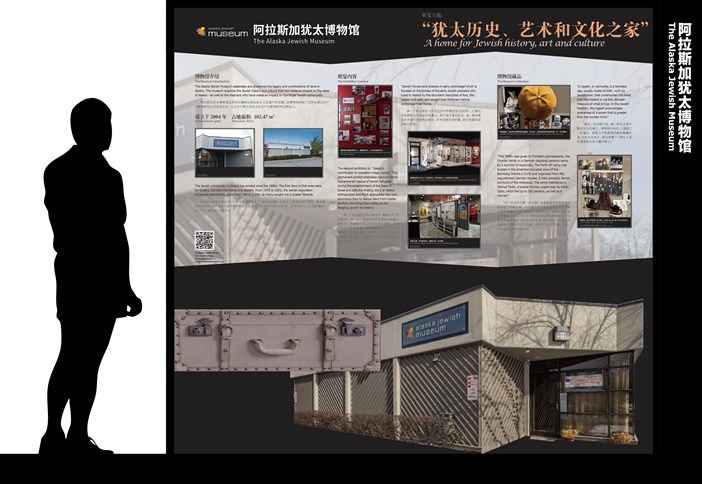 The Shanghai Jewish Refugees Museum (SJRM) was established in 2007 at Ohel Moshe Synagogue in the historical area of Hongkou District, the quarter where over 20'000 Jewish refugees used to live during World War II. It initially covered an area of 900 square meters, but it recently went through an expansion which made the SJRM a complex of 4500 square meters which includes the Ohel Moshe Synagogue, two heritage buildings (once used as shelters for the refugees), the Wall of Names (carved more than 19000 names of the Jewish refugees living in Shanghai during WW II) and a square. The museum reopened at the end of 2020 with hundreds of new stories and objects on display.
To virtually visit the museum please click here.
Baluoho is a Center dedicated to the research of historical material. We have an official Channel on the Chinese social platform WeChat where every week we talk about a topic dedicated to the connection between the Chinese and Jewish Culture. Our team of Baluoho has been working in strong collaboration with the museum team.
Director Lin Yong is the Creative Director and head of the design of the whole exhibition. Professor He Ning has been the Art Consultant of SJRM since 2007, he is the main designer of the Wall of Names. They have been working on this project for almost 18 years together with the Director of SJRM Dr. Chen Jian. Federica Salierno joined the team two and a half years ago and supported the museum renovation project by working on historical research and communication.
These three, in 2021, have been specially appointed research fellows by SJRM and the "Center for Historical Material Research on Shanghai Jewish Refugees" which belongs to the Institute of International Relations of the Shanghai Academy of Social Sciences.